Patch Notes - January 21, 2021
Greetings Atlantians!

Welcome to another patch content breakdown for today's version 360440. The Anniversary is upon us and today's patch is loaded with festivities!

To celebrate, returning events open up to the world of Atlantica once again!

It will also be time to say goodbye to Holy Town as it will close its doors until they call to us for help once again.

Other than events, we also have some skill adjustments coming right up as well as some new arrivals you sure wouldn't want to miss!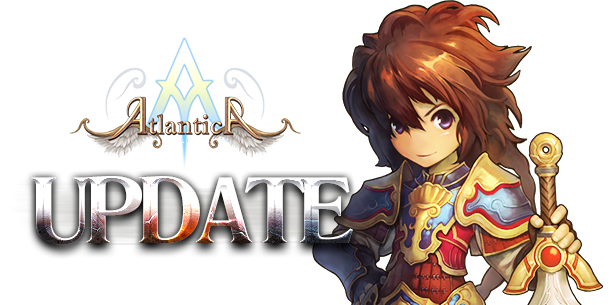 - Server Refresh

- Added New Decoration

: Valtazzar's Dragon Wings

: Albius' Dragon Wings

: Therymathias' Dragon Wings

: Seryannis' Dragon Wings

"The dragons continue to make their presence known in the land. As a continuation to their never-ending blessings. Their wings await a worthy Atlantian to wear it."

- Added New Mount

: Phantom Owl

: Phantom Joker Owl

: Comes with its very own new magic skill

"Mystical eerie owls have arrived in Atlantica. Their intentions are as mysterious as their phantasmal form. What power do they hold and who will they deem worthy to be served by them?"

- Added New Costume

: Phantom Joker Outfit Set

: Phantom Thief Outfit Set

"Elegant uniforms for the tricksters of the night. Obtain these mystical attires and truly shine as a trickster of the battlefield. "

- Added New Mercenary Skin

: Carmilla: Winter Flower

: Mwindo: Anubis

"Two mercenaries get new skins today! One being a vampiric musician hidden beneath the whiteness of snow and a mystical sorceress praising the entity of death himself. "

- Preloaded New Package

: 13th Year Anniversary Package

: 13th Year Anniversary Celebration Box

- New Loading Banner

"Theme: The Phantom Jokers (Anniversary Special)"

- Updated Collection Book

"New items have been recorded on the Collection Book, check it out via the collection book menu in-game to find out more about the new arrivals"

- End of Christmas Event

: Removed Holy Town Gate

: Exchange NPC and Slot Machine NPC stays until the next patch

: Christmas Hourly Giveaway disabled

"Holy Town has shut its doors once again. Thank you to all Atlantians who fought well to save the town from a slew of Christmas Raiders. Santahontas and Holiday Acong will be staying for a while to pack up their things before they travel elsewhere. As such, the Christmas exchange will stay until the next patch."

- Start of the Traveling Theater Event

: Added Traveling Theater Gate

: Returned Traveling Theater Exchange NPC (Traitor Capitano)

: New Hourly Giveaway

"Clowns! Fire Dancers! Ringmasters?! It's the Traveling Theater! The Traveling jesters has returned to put up a performance once more! The wacky circus re-introduces their very own Harlequin to the land of Atlantica.

Traitor Capitano has a haul of returning rewards and new ones right outside of the Traveling Theater gate. I wonder what he has in store?

The circus will also be handing out an hourly giveaway as a celebration of the return of the Traveling Theater."

Hourly Giveaway are as follows:

- 1st Hour - Dell'arte Party Invitation 1x

- 2nd Hour - Dell'arte Pagex5

- 3rd Hour - Dell'arte Party Invitation 1x

- 4th Hour - Dell'arte Pagex5

"Please refer to the Traveling Theater Event Guide for more information."

- Start of the Giant Scary Acong Invasion and Fishing Event!

: Defeat the Evil Warlord Acong

: Battle Giant Acongs scattered across the world

: New Rewards and Returning Rewards (Location - Hainan Island, NPC: Fisherman Acong )

"The Evil Warlord Acong has returned to wreak havoc in Rome! With him, an army of terrifying giant Acongs?!

He must've heard about the anniversary coming up again – oh what to do? …

Only a mighty Atlantian can stop this hulking menace and his goons! Put a stop to them and become the legendary Acong Slayer!"

"On another note – Fisherman Acong quotes:

"I heard from some of my friends that a baby dragon rests at the bottom of the ocean – would be a shame if the kiddo gets fished up all willy nilly.

I mean, no one in their right mind would do that, right? .. hehe -- "

- Atlantica Online 13th Year Anniversary Daily Login

: From January 25, 2021 to January 31, 2021

"To celebrate the 13th Anniversary Special, we'll be giving away fancy goodies starting on the 25th up to the 31st. Tune in in-game to find out more!

- Pre-loaded End of the Month AO Day Blessing

: From January 30 to 31

"It's that time again as the end of January draws near. Starting January 30th up to the 31st, Atlantica Day Blessings will be bestowed upon every Atlantian!"

- Albius' Blessing Puzzle Piece

: Contains Albius' Dragon Wings

- Valtazzar's Blessing Puzzle Piece

: Contains Valtazzar's Dragon Wings

- Therymathias' Blessing Puzzle Piece

: Contains Therymathias' Dragon Wings

- Seryannis' Blessing Puzzle Piece

: Contains Seryannis' Dragon Wings

"The Dragons bestow unto you their mighty wings!"

- Phantom Joker Puzzle Piece

: Contains Phantom Joker Hat and Phantom Joker Costume

"Obtain the Phantom Joker set and trick your enemies with both cunning and elegance!"

- Joker Owl Puzzle Piece

: Contains Phantom Joker Owl

"The Night Owl eagerly waits for a worthy champion. Obtain the Joker Owl and manifest the power of the Phantom Owl."

- Mwindo: Anubis Package

: Contains the new Mwindo: Anubis mercenary skin

"Sorceress Mwindo dons the ceremonial attire to honor the Egyptian God of Death, Anubis"

- Carmilla: Winter Flower Package

: Contains the new Carmilla: Winter Flower mercenary skin

"Here comes the Winter Flower. Elegantly she enters the room..."