The Autumn Tournament Draws Near!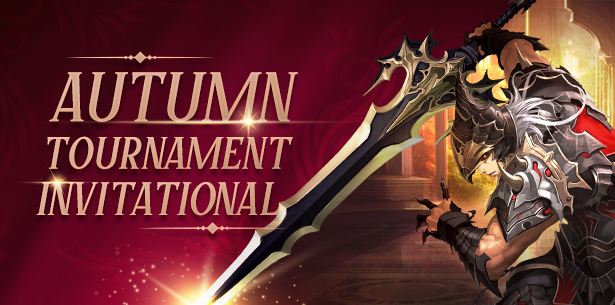 Greetings Atlantians!
The battle sparks during this season!

Now is the time to ignite the thirst for war!
Are you up for the challenge? Only the best will come out on top! Prove it and become the champion of the Autumn season.
Registration of entry will be available until December 10, 2020.
Autumn Tournament will start on December 19, 2020, 11:00 CET.
The final list of participants will be posted on December 11, 2020.
You can watch the Invitational Trailer from the link below:

https://www.youtube.com/watch?v=FBJSEJBpLYU&feature=youtu.be&ab_channel=VFUNOfficial

Players who will be participating in the tournament shall be rewarded with the following items:

• Blessing License(3 Days/Event) x1

• Art Gallery Pass [Event] x5

•To make your entry valid, kindly send a screenshot of your Main/Mercenary level and might to GM via discord, official FB page, or Twitter.

•You can also tag your entry on our official Facebook page @AtlanticaGlobalOfficial. Just give us a screenshot of your squad. Please include the character name and server.

Matchmaking Process:

• System generated best of 3 elimination match.

• There will be an interval of 120 seconds after each match. You can change mercenary to counter your opponent during the interval or strategize the line-up of your squad.

• Final is best of 5 deathmatch! The first to get 3 wins will be crowned as the champion of the Autumn Tournament Invitational.

Special Event:

• There will be a giveaway during the live stream during the Autumn Tournament matches.

• The home server of the champion of the Autumn Tournament will get AO Day buffs for a week.

• During the live stream of the tournament, players who correctly predicted which character would be the champion will get special rewards. Just type the name of your favorite participant before the tournament begins. We will be selecting 10 viewers who got the correct answers.

Note: Registered players who aren't present on the day of the tournament will not be able to participate in the next seasonal tournament.

Reminder: Please ensure a stable connection before entering the match to avoid any issues and disqualifications.

• Here's a sneak peek of the rewards: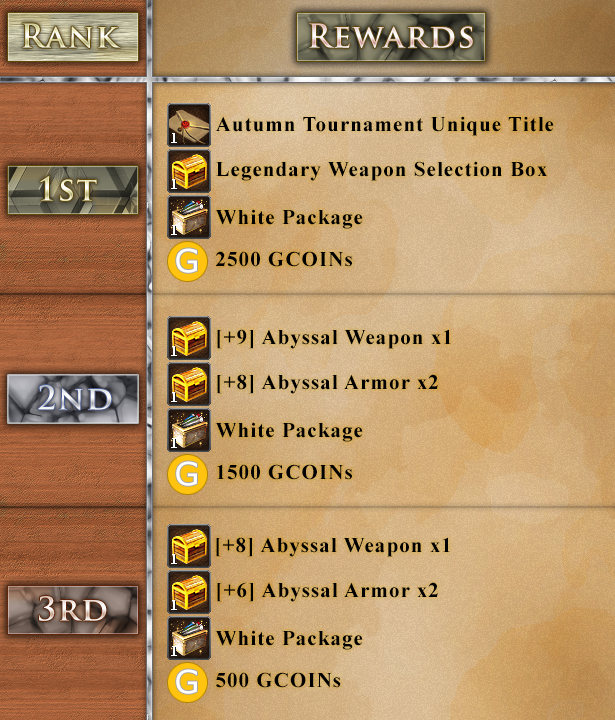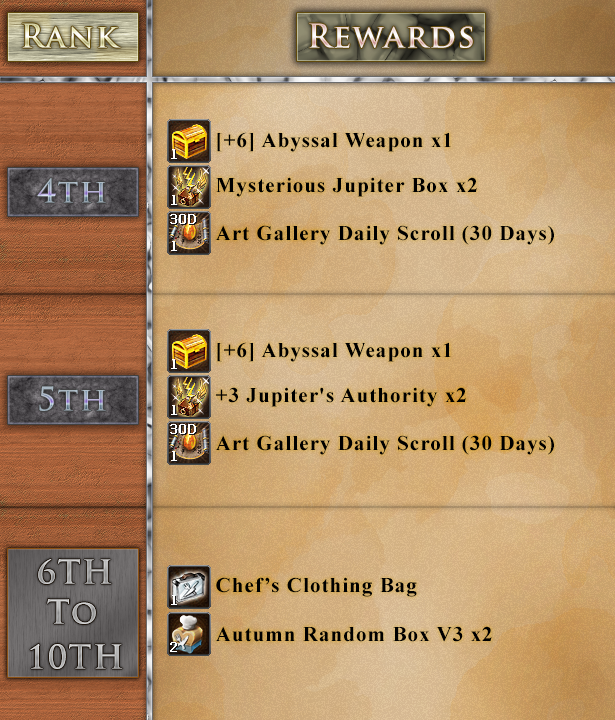 Champion Rewards Preview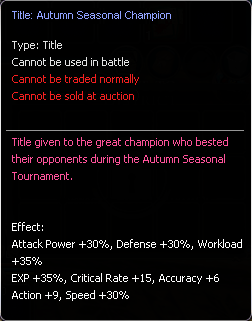 Legendary Weapon Selection Box Contents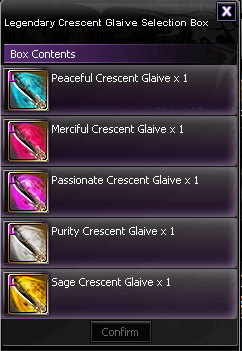 Legendary Weapon Stats