[EVENT] Spooky Ghost Town 2018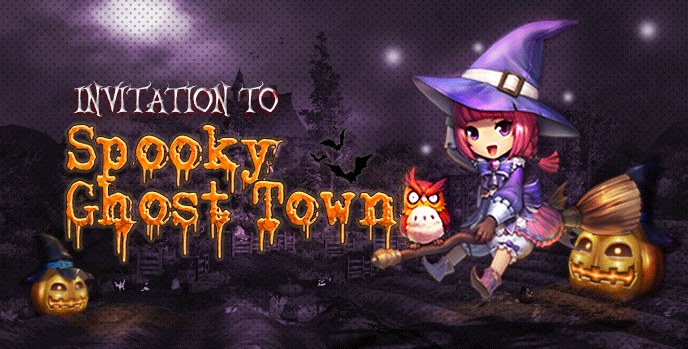 Trick or Treat!

You might have heard about the infamous accessories that comes from the Halloween event, and now, they have arrived again!



Requirements

- Event Period: After MA of 4th OCT ~ Before MA of 8th NOV

- Event Level: 60 ~ 180



Event Details

1. Ghost Bride's Invitation

You can get one Ghost Bride's Invitation' after you have logged into the game for an hour (Reset time 06:00)

Once used, you will be able to stay inside the event area for a certain amount of time.

For easier access, there is an icon on the upper left of screen, simply click on the icon and get teleported quickly!




2. Monster Madness!

For every event monster killed, you will get 'Pumpkin Bombs'! These items can be used to enhance your characters or be traded for better items with the Halloween Specter!

Monsters also have the chance to drop 'Misty Graveyard Key'.





3. The Gorgeous but Ghastly, Elizabeth!

Beyond the 2nd Area of the Spooky Ghost Town, lies the beautiful Elizabeth. She has been hoarding accessories from last year's event! Defeat her and you may have a chance to get Halloween Pumpkin Accessories! You will need a Misty Graveyard Key to enter her instance.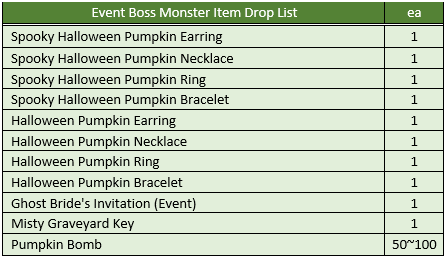 4. Halloween Specter?

You can exchange your 'Pumpkin Bombs' for roulette items! These roulettes requires Halloween accessories and gives you the chance to upgrade them into RARE 'Spooky' accessories!

For Valentine accessory owners, we have good news! There is also a roulette item available to transform your Valentine accessories to 'Spooky' Halloween accessories!

These roulette items do not consume your accessories unless the upgrade succeeds

Lastly, we have prepared the 'ACA Event Lucky Box I' for the people who may completed the accessory sets, a box that contains the special weapon for the Grim Reaper! (see contents of special event random boxes at the end of the newsletter)

Another box is also present for exchange, the [EVENT] Halloween Pumpkin Bomb Lucky Box will give you a chance to get even more Pumpkin Bombs, it also contains the halloween exclusive Day of the Dead costumes!

[EVENT] Lollipops will be given randomly during the event period or from special events by the GM! Check the Facebook page or twitter for their special announcements.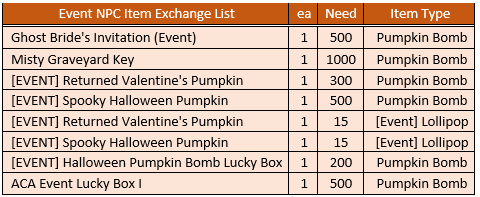 5. Pumpkin Bomb Enhancement?

Did we say that 'Pumpkin Bombs' can enhance your character's power? Why not try to equip it as a charm?



6. Remove Event item

These items will be removed after the event period, make sure you use them up before the event ends! (List to be updated later)
7. ACA Event Lucky Box I

: Chance to get 1 of the following items


8. Pumpkin Bomb Lucky Box

: Chance to get 1 of the following items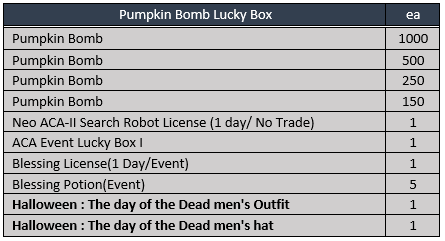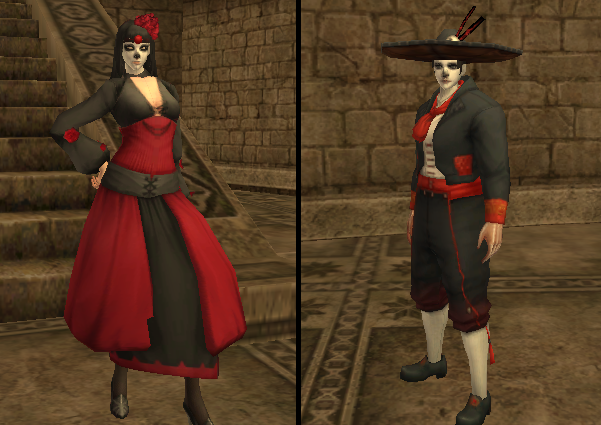 ​​​​​​​