Patch Notes - December 23, 2021
[English]

Greetings Atlantians!

Welcome to another patch content breakdown for version 360680! The Holiday Events keep on coming as the defense on Holy Town rages on.

There has also been some word going on that a certain Jolly Old Fellow's home has opened their doors welcoming Atlantians this Christmas! But alas, it has also become vulnerable to the raiders of Holy Town.

The defense of Christmas continues, but now we take the fight to Santa Villa!

On other news, a special bonus buff to celebrate another year together and more Christmas packages are headed your way!

This and more here on today's patch content breakdown!

Please refer to the details below: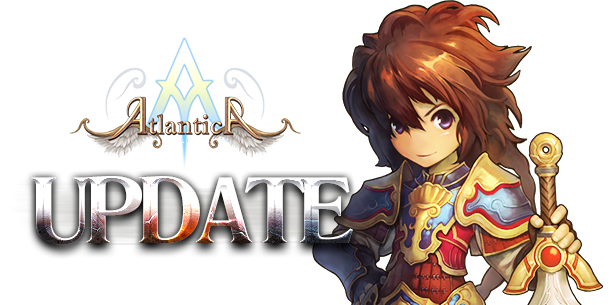 - Server Refresh

- New Skin

: Christine: Cutie Rudolph

"Even the Sheriff knows how to rock a Christmas Costume and it's in a cozy Reindeer Costume?!

New skin, Cutie Rudolph, now available on the events shop!"

- End of Thanksgiving

: Merchant Acong Thanksgiving Shop removed

"Merchant Acong has finally closed his Thanksgiving Shop to give time to celebrate the Holidays!

Interacting now with Merchant Acong (Rome) will display an "All Items Have Been Sold Out" message instead of a normal chat window."

- Return of Santa Villa

: Return of Santa Vila Dungeon

"Santa Villa makes a lite return welcoming any jolly good Atlantian to enter! However, Holy Town's raiders have marched towards the humble Villa in the hopes to steal any Christmas goodies they can find!

Head on over to Santa Villa and defeat the wily raiders! New rewards await!"

Note: 2 different Event Dungeon Tickets do not stack. Once Event Ticket A is used, you cannot use Event Ticket B unless the duration is finished.

- Yong Yong's Special Christmas Exchange

: Christmas Card Exchange Shop Returns

"Yong Yong's Christmas Exchange makes a return, bearing a hefty haul of gifts this Christmas! Still wondering to this day where he gets these special treasures…

Head on over to Rome and look for Yong Yong's Event Shop!"

- Year End Blessing 2021

: Preload AO Day Settings (Dec. 24 to January 7)

"As part of the Year End Blessing 2021, Atlantians will be able to take advantage of server buffs starting from Dec. 24 up until the first week of the year!

More details will be shared soon."

- Regal Holiday Box

"Obtain the cozy Regal Holiday Suit and other special goodies and strut your style this Wintry Holiday season!"

- Snowflake Ride Box

"The ever sparkling Crystalline Snowflake Mount can now be obtained along with other goodies! Celebrate the Winter Season by traversing the lands on your very own Snowflake!"

- Portable XMAS Tree Box

"Bring the joy of giving wherever you go! Obtain your very own portable XMAS Tree and be a literal walking Christmas!"

- Venetian Gondola Box

"You can now obtain the VIP's Gondola and traverse the beautiful canals of Venice! Have a romantic trip with your very own Gondola and embrace the power of its waters."

- Venetian Costume Random Box

"VIP looks for the star in you! Obtain the VIP Style Costume set and walk the red carpet, glimmering with awe and style!"

- Blooming Flower Basket

"Special flowers for you, a loved one or for you both! Obtain the Bouquet Decoration and harness the power of flora!"

: Fixed an issue where Crafting Cap of Lv. 180 didn't activate on TITAN Server

: Fixed translation corrections for French, German and Russian Languages

: Fixed an issue where Certain Christmas Event Items could not be registered in the collection book



[French]

Salutations, Atlantes !

Bienvenue à une nouvelle répartition du contenu du patch pour la version 360680 ! Les événements de Noël continuent d'arriver alors que la défense de la ville sainte fait rage.

On a également entendu dire que la maison d'un certain vieux compagnon joyeux a ouvert ses portes pour accueillir les Atlantes à Noël ! Mais hélas, elle est aussi devenue vulnérable aux pilleurs de Holy Town.

La défense de Noël continue, mais nous allons maintenant nous battre contre Santa Villa !

Dans le reste de l'actualité, un bonus spécial pour célébrer une nouvelle année ensemble et d'autres colis de Noël sont en route !

Tout cela et bien d'autres choses encore dans la répartition du contenu du patch d'aujourd'hui !

Veuillez consulter les détails ci-dessous :

Détails de la mise à jour

- Rafraîchissement du serveur

- Nouvelle skin

: Christine : Mignon Rudolph

"Même le shérif sait comment balancer un costume de Noël et c'est dans un costume de renne douillet !

Nouveau skin, Mignon Rudolph, maintenant disponible sur la boutique d'événements !"

Événement

- Fin de Thanksgiving

: Suppression de la boutique de Thanksgiving du marchand Acong

"Le marchand Acong a finalement fermé sa boutique de Thanksgiving pour laisser le temps de célébrer les fêtes de fin d'année !

Interagir maintenant avec le marchand Acong (Rome) affichera un message "Tous les articles ont été vendus" au lieu d'une fenêtre de discussion normale."

- Le retour de Santa Villa

: Retour du donjon de Santa Vila

"Santa Villa fait un retour en fanfare en accueillant tout bon Atlantide jovial à entrer ! Cependant, les pillards de Holy Town se sont dirigés vers l'humble villa dans l'espoir de voler toutes les friandises de Noël qu'ils peuvent trouver !

Dirigez-vous vers la villa Santa et battez les pillards rusés ! De nouvelles récompenses vous attendent !"

"Remarque : 2 tickets de donjon événement différents ne s'empilent pas. Une fois le ticket événement A utilisé, vous ne pouvez pas utiliser le ticket événement B tant que sa durée n'est pas terminée."

- L'échange spécial Noël de Yong Yong

: Retour de la boutique d'échange de cartes de Noël

"La boutique d'échange de cartes de Noël de Yong Yong fait son retour, apportant un gros lot de cadeaux pour Noël ! On se demande encore aujourd'hui où il trouve ces trésors spéciaux...

Rendez-vous à Rome et cherchez la boutique événementielle de Yong Yong !"

- Bénédiction de fin d'année 2021

: Préchargement des paramètres du jour de l'AO (du 24 décembre au 7 janvier)

"Dans le cadre de la Bénédiction de fin d'année 2021, les Atlantes pourront profiter des buffs du serveur à partir du 24 décembre jusqu'à la première semaine de l'année !

Plus de détails seront partagés prochainement."

Boutique

- Boîte de vacances royale

"Obtenez le confortable costume de vacances Regal et d'autres articles spéciaux et affichez votre style pendant la saison hivernale des fêtes !"

- Boîte de tour de flocon de neige

"Le toujours étincelant mont de flocon de neige cristallin peut maintenant être obtenu avec d'autres goodies ! Célébrez la saison d'hiver en parcourant les terres sur votre propre flocon de neige !"

- Boîte à sapin de noël portable

"Apportez la joie d'offrir partout où vous allez ! Obtenez votre propre sapin de Noël portable et devenez un véritable Noël ambulant !"

- Boîte de gondole vénitienne

"Vous pouvez maintenant obtenir la gondole VIP et traverser les magnifiques canaux de Venise ! Faites un voyage romantique avec votre propre gondole et profitez de la puissance de ses eaux.

- Costume vénitien Boîte aléatoire

"VIP recherche la star qui est en vous ! Obtenez l'ensemble de costumes de style VIP et foulez le tapis rouge, en rayonnant avec admiration et style !"

- Panier de fleurs en fleurs

"Des fleurs spéciales pour vous, un être cher ou pour vous deux ! Obtenez la décoration de bouquet et exploitez le pouvoir de la flore !"

Corrections

: Correction d'un problème où le Cap d'artisanat de Lv. 180 n'était pas activé sur le serveur TITAN.

: Correction des traductions pour les langues française, allemande et russe.

: Correction d'un problème où certains objets de l'événement de Noël ne pouvaient pas être enregistrés dans le livre de collection.



[German]

Seid gegrüßt, Atlantiden!

Willkommen zu einer weiteren Aufschlüsselung der Patch-Inhalte für Version 360680! Die Feiertagsereignisse nehmen kein Ende, während die Verteidigung von Holy Town weitergeht.

Es hat sich auch herumgesprochen, dass das Haus eines gewissen Fröhlicher alter Kerl seine Pforten geöffnet hat, um die Atlantiden an Weihnachten willkommen zu heißen! Aber leider ist es auch den Angreifern von Holy Town schutzlos ausgeliefert.

Die Verteidigung von Weihnachten geht weiter, aber jetzt nehmen wir den Kampf zu Santa Villa auf!

Außerdem gibt es einen speziellen Bonus-Buff, um ein weiteres Jahr gemeinsam zu feiern, und weitere Weihnachtspakete sind auf dem Weg zu euch!

Dies und mehr erfahrt ihr in der heutigen Inhaltsübersicht zum Patch!

Bitte lest euch die Details unten durch:

Update-Details

- Server-Aktualisierung

- Neuer Skin

: Christine: Süßer Rudolph

"Sogar der Sheriff weiß, wie man ein Weihnachtskostüm rockt, und zwar in einem gemütlichen Rentierkostüm...!

Der neue Skin, Süßer Rudolph, ist jetzt im Eventshop erhältlich!"

Event

- Ende von Thanksgiving

: Händler Acong Thanksgiving Shop entfernt

"Händler Acong hat seinen Thanksgiving-Shop endgültig geschlossen, um Zeit für die Feiertage zu haben!

Wenn ihr jetzt mit Händler Acong (Rom) interagiert, wird anstelle des normalen Chatfensters die Nachricht "Alle Gegenstände sind ausverkauft" angezeigt."

- Rückkehr der Santa Villa

: Rückkehr des Santa-Vila-Dungeons

"Santa Villa kehrt zurück und lädt jeden guten Atlantiden ein, sie zu betreten! Die Plünderer von Holy Town haben sich jedoch auf den Weg zur bescheidenen Villa gemacht, in der Hoffnung, alle Weihnachtssachen zu stehlen, die sie finden können!

Macht euch auf den Weg zur Santa Villa und besiegt die schlauen Räuber! Neue Belohnungen warten auf euch!"

"Hinweis: 2 verschiedene Event-Dungeon-Tickets sind nicht stapelbar. Sobald du das Eventticket A benutzt hast, kannst du das Eventticket B erst wieder benutzen, wenn die Dauer abgelaufen ist."

- Yong Yong's Besonderer Weihnachtsumtausch

: Weihnachtskarten-Tauschbörse kehrt zurück

"Yong Yongs Weihnachtstauschbörse kehrt zurück und hat dieses Jahr eine beachtliche Menge an Geschenken dabei! Ich frage mich bis heute, woher er diese besonderen Schätze bekommt...

Mach dich auf den Weg nach Rom und halte Ausschau nach Yong Yong's Event Shop!"

- Jahresendsegen 2021

: AO-Tageseinstellungen vorladen (24. Dezember bis 7. Januar)

"Als Teil des Jahresendsegens 2021 können die Atlanter ab dem 24. Dezember bis zur ersten Woche des Jahres von Server-Buffs profitieren!

Weitere Details werden bald bekannt gegeben."

ItemShop

- Königliche Feiertagsschatulle

"Holt euch den kuscheligen Regal Festlicher Anzug und andere besondere Goodies und zeigt euch in dieser winterlichen Feiertagssaison von eurer besten Seite!"

- Schneeflöckchen-Reiter Schatulle

"Das funkelnde Kristalline Schneeflocken-Reittier kann jetzt zusammen mit anderen Goodies erworben werden! Feiere die Wintersaison, indem du auf deiner eigenen Schneeflocke durch die Lande reitest!"

- Tragbarer Weihnachtsbaum Schatulle

"Bringen Sie die Freude des Schenkens, wohin Sie auch gehen! Holen Sie sich Ihren eigenen tragbaren Weihnachtsbaums und werdet buchstäblich zu einem wandelnden Weihnachten!"

- Venezianische Gondel-Schatulle

"Ihr könnt jetzt die VIP-Gondel erhalten und durch die wunderschönen Kanäle von Venedig fahren! Erlebe eine romantische Reise mit deiner eigenen Gondel und genieße die Kraft des Wassers."

- Venezianisches Kostüm Zufallsschatulle

"VIP sucht den Star in dir! Hol dir das VIP-Kostümset und schreite über den roten Teppich und glänze mit Ehrfurcht und Stil!"

- Blühender Blumenkorb

"Besondere Blumen für dich, einen geliebten Menschen oder für euch beide! Holt euch die Blumenstrauß-Dekoration und macht euch die Macht der Flora zunutze!
Korrekturen

: Ein Problem wurde behoben, bei dem die Handwerksgrenzen von Lv. 180 auf dem TITAN Server nicht aktiviert wurde.

: Übersetzungskorrekturen für Französisch, Deutsch und Russisch behoben

: Bestimmte Weihnachtsevent-Gegenstände konnten nicht in das Sammelbuch eingetragen werden.