Patch Notes - October 28, 2021
[English]

Greetings Atlantians!

Welcome to another patch content breakdown for version 360640!

Oktoberfest finally comes to a close and it seems Merchant Acong is going to keep his shop up while the event organizers clean up after the festival. A familiar haunted cemetery, as well, has opened its gates once again waiting for unsuspecting Atlantians to give them a good old spook! Rumor has it, the graveyard is located outside of Dublin.

On another news, it seems Merlin himself requests our aid on an assignment. His palace has finally opened its doors in the distant lands of Avalon, however, it is overflowing with cursed knights waiting to test their mettle. Aid the Grand Magus and he might grant you your just rewards.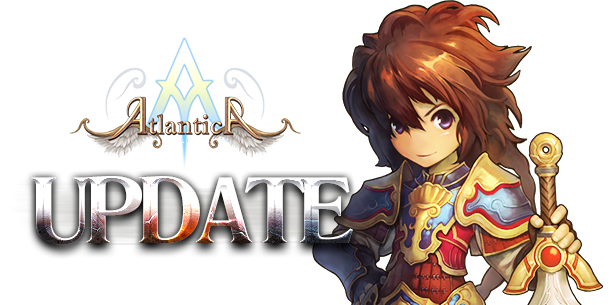 - Server Refresh

- New Mercenary Skins

: Bai Xian: Qipao

"An elegant dress befitting of a high class maiden. Even Bai Xian stuns her fellow trainers as she wears the ornate gown."

: Merlin: Duke of Shadows

"It wouldn't be a surprise that Merlin himself would be able to harness the power of the shadows..."

- New Costume Set

: Blood-soaked Uniforms

: Spooky Syringe (Mount)

: Spooky Concoction Ringer (Decoration)

"Following a new spooky theme is the Zombie Nurse set! Comes with its very own bloodsoaked medical kit and tattered uniforms fitting for a spooky Halloween!"

- New Dungeon

: Fallen Realm of Transcendent Legends

"The great palace of Merlin now welcomes new legends to take part in a gauntlet of battles against accursed knights. Come out victorious and be rewarded for your bravery and strength. Will you be able to survive the challenges that lie within the mystical fortress?"

: End of Oktoberfest 2021

: Start of Spooky Ghost Town 2021

"The Spookiest Town welcomes back Atlantians to face its festival of spooks and chills! Defeat the ghouls that roam the cemetery and seek out the Crimson Vampire that leads the army of the undead. A Runaway Pumpkin seems to have a way to help you infiltrate the cemetery, look for the Pumpkin located outside of Dublin and see what he has to offer. "

: AO Day Event (October 30th ~ November 7th)

: 7 Days Login Rewards

: November Monthly Exporation

"Login to be able to take advantage of a load of free goodies!"



[French]

Salutations, Atlantes !

Bienvenue à une nouvelle répartition du contenu du patch pour la version 360640 !

La fête de bière touche enfin à sa fin et il semble que le marchand Acong va garder sa boutique ouverte pendant que les organisateurs de l'événement nettoient après le festival. Un cimetière hanté familier a également ouvert ses portes une fois de plus, attendant les Atlantes sans méfiance pour leur donner une bonne vieille frayeur ! La rumeur dit que le cimetière est situé à l'extérieur de Dublin.

Autre nouvelle, il semblerait que Merlin lui-même ait demandé notre aide pour une mission. Son palais a finalement ouvert ses portes dans les terres lointaines d'Avalon, cependant, il déborde de chevaliers maudits qui attendent de tester leur courage. Aidez le Grand Mage et il pourrait vous accorder votre juste récompense.

Détails de la mise à jour

- Rafraîchissement du serveur

- Nouveaux skins de mercenaires

: Bai Xian : Qipao

"Une robe élégante digne d'une jeune fille de grande classe. Même Bai Xian étonne ses compagnons d'entraînement lorsqu'elle porte cette robe ornée."

: Merlin : Duc des Ombres

"Ce ne serait pas une surprise que Merlin lui-même soit capable d'exploiter le pouvoir des ombres..."

- Nouveau set de costumes

: Uniformes trempés de sang

: Seringue effrayante (monture)

: Sonneur de concorde effrayant (Décoration)

"Le set Infirmière zombie suit un nouveau thème effrayant ! Il est livré avec sa propre trousse médicale ensanglantée et des uniformes en lambeaux adaptés à un Halloween effrayant !"

- Nouveau Donjon

: Le royaume déchu des légendes transcendantes

"Le grand palais de Merlin accueille désormais de nouvelles légendes pour prendre part à une série de batailles contre des chevaliers maudits. Sortez victorieux et soyez récompensé pour votre bravoure et votre force. Serez-vous capable de survivre aux défis que recèle la forteresse mystique ?"

- Événement

: Fin de fête de bière 2021

: Début de la ville fantôme effrayante de 2021.

"La ville la plus effrayante accueille de nouveau les Atlantes pour affronter son festival d'épouvante et de frissons ! Battez les goules qui errent dans le cimetière et cherchez le vampire cramoisi qui dirige l'armée des morts-vivants. Une Citrouille fugitive semble avoir un moyen de vous aider à infiltrer le cimetière, cherchez la Citrouille située à l'extérieur de Dublin et voyez ce qu'elle a à vous offrir. "

: Événement AO Day (30 octobre ~ 7 novembre)

: Récompenses pour 7 jours de connexion

: Expansion mensuelle de novembre

"Connectez-vous pour pouvoir profiter d'un tas de goodies gratuits !



[Russian]

Приветствуем Атланты!

Добро пожаловать на обзор патча для версии 360640!

Октоберфест наконец-то закончился, а магазин Аконга продолжит свою работу, пока организаторы убираются после фестиваля. Всем знакомое кладбище снова открыло свои ворота с целью снова хорошо напугать ничего не подозревающих Атлантов! Говорят что кладбище находится недалеко от Дублина.

Ещё одна хорошая новость. Мерлин попросил у нас помощи. Двери его дворца наконец-то открылись в далеких землях Авалона, однако, он заполнен проклятыми рыцарями, желающими проверить свою храбрость. Помогите Верховному магу Мерлину и он может вас вознаградить.

Детали обновления:

– Обновление сервера

– Новые облики наемников

: Бай Сянь: ципао

«Элегантное платье, которое носят женщины из высшего общества. Даже коллеги адепты были поражены внешнему виду Бай Сянь в этом богато украшенном платье.

: Волшебник: герцог тьмы

« Нет ничего удивительного в том, что Мерлин может использовать силу теней…»

– Новые костюмы

: Окровавленные формы

: Жуткий шприц (Транспорт)

: Жуткая капельница (Украшение)

«Новая тема Хелуина - костюм зомби медсестры! В комплект включены окровавленная аптечка и рваная форма, подходящая жуткому Хеллуину!»

– Новое подземелье

: Падшая крепость трансцендентных легенд

«Великолепный дворец Мерлина предлагает новым легендам сразиться с проклятыми рыцарями. Станьте победителем и получите награду за храбрость и силу. Сможете ли вы выжить в испытаниях, что кроются внутри мистической цитадели?»

– События

: Окончание Октоберфеста 2021

: Начало Жуткий город призраков 2021

«Жутчайший город снова привествует Атлантов на своем фестивале холода и ужасов! Победите гулей, которые бродят по кладбищу и найдите Багрового вамира, который возглавляет армию нежити. У Беглой тыквы похоже есть способ помочь вам попасть на кладбище. Найдите её рядом с Дублиным и узнайте, чем она может вам помочь.»

: Событие День AO (30-е октября ~ 7-е ноября)

: 7-ми дневные награды за вход

: Ноябрьское путешествие

«Входите в игру, чтобы получить множество бесплатных подарков



[German]

Seid gegrüßt, Atlantianer!

Willkommen zu einer weiteren Aufschlüsselung der Patch-Inhalte für Version 360640!

Das Oktoberfest neigt sich dem Ende zu und es scheint, als würde Händler Acong seinen Laden aufrechterhalten, während die Organisatoren nach dem Fest aufräumen. Auch ein bekannter Spukfriedhof hat wieder seine Pforten geöffnet und wartet auf ahnungslose Atlantiden, um ihnen einen gehörigen Schrecken einzujagen! Gerüchten zufolge befindet sich der Friedhof außerhalb von Dublin.

Eine weitere Neuigkeit ist, dass Merlin selbst uns um Hilfe bei einem Auftrag bittet. Sein Palast hat endlich seine Pforten in den fernen Ländern von Avalon geöffnet, doch er ist überfüllt mit verfluchten Rittern, die darauf warten, euren Mut zu testen. Helft dem Großmagus, und er wird euch vielleicht eure gerechte Belohnung gewähren.

Details zur Aktualisierung

- Server-Aktualisierung

- Neue Söldner-Skins

: Bai Xian: Qipao

"Ein elegantes Kleid, wie es sich für eine hochrangige Maid gehört. Sogar Bai Xian verblüfft ihre Mitausbilder, wenn sie das kunstvolle Kleid trägt."

: Merlin: Herzog der Schatten

"Es wäre keine Überraschung, wenn Merlin selbst in der Lage wäre, sich die Macht der Schatten zunutze zu machen..."

- Neues Kostümset

: Blutgetränkte Uniform

: Gespenstische Spritze (Mount)

: Gruseliges Gebräu Ringer (Dekoration)

"Das Zombie-Krankenschwester-Set folgt einem neuen gruseligen Thema! Mit eigenem, blutgetränktem Verbandskasten und zerfledderter Uniform, passend zu einem gruseligen Halloween!"

- Neuer Dungeon

: Gefallenes Reich der transzendenten Legenden

"Der große Palast von Merlin heißt jetzt neue Legenden willkommen, die an einem Spießrutenlauf von Kämpfen gegen verfluchte Ritter teilnehmen können. Geht als Sieger hervor und werdet für euren Mut und eure Stärke belohnt. Werdet ihr die Herausforderungen in der mystischen Festung überstehen?"

- Event

: Ende des Oktoberfestes 2021

: Beginn der gruseligen Geisterstadt 2021

"Die gespenstischste Stadt heißt die Atlanter wieder willkommen, um sich dem Fest des Spuks und des Schreckens zu stellen! Besiege die Ghule, die den Friedhof durchstreifen, und suche den purpurnen Vampir, der die Armee der Untoten anführt. Ein entlaufener Kürbis scheint dir dabei zu helfen, den Friedhof zu infiltrieren. Suche nach dem Kürbis, der sich außerhalb von Dublin befindet, und sieh, was er zu bieten hat. "

: AO Tag Event (30. Oktober ~ 7. November)

: 7 Tage Login-Belohnungen

: Monatliche November-Erklärung

"Logge dich ein, um von einer Menge kostenloser Goodies zu profitieren!