Patch Notes - November 19, 2020
Greetings Atlantians!

Here comes the Patch Note for the updates today November 19, 2020!

Please refer to the details below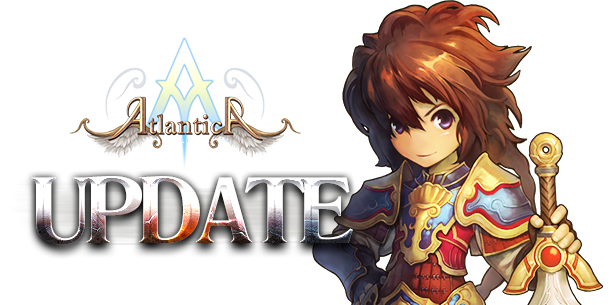 - Server Refresh

- Added New Mercenary

: Gladiator / Spartacus

: Spartacus Symbol (Summon Marble)

- Added New Weapon

: Spartacus Great Sword

"Can be obtained through Battlefield KD's exchange shop"

"Prove your might through battles and obtain Spartacus' powerful weapon"

- Added New Decoration

: Lavish Noble's Crest

: Radiant Royal Crest

"It's been rumored that the Noble Family's crests holds a secret power but no one but the Noble Family know the truth"

- Added New Mount

: Masquerade Party Carriage

: Radiant Royal Carriage

"The Noble Family's most favored transportation and possesses the might of their Royal Guards"

- Added New Costume

: Lavish Masquerade Attire

: Radiant Masquerade Attire

"Dress for the occasion and stand out with the Noble Family's finely made outfits tailored for a Masquerade"

- Added New Mercenary Costume

: Spartacus: Royal Guard Hanbok

: Spartacus: Imperial Guard Hanbok

- Added Collection Book Set

: Royal Family's Masquerade Party

- Added Set Bonus

: Lavish Masquerade Party

: Radiant Masquerade Party

- Added New Magic

: Wheels of the Royal Guards (Mount Magic)

: Ascend of the Royal Guards (Decoration Magic)

: Triumphant Strike (Weapon Magic)

- Halloween Event extended until November 26, 2020

"The unrest of the undead within Spooky Ghost Town persists and so does the fortunes that lies within! It is everyone's last chance to procure infamous accessories before the gates close!"

- Halloween Spectre new shop content

: Added Lavish Party Mask

: Added Lavish Masquerade Attire

"Halloween Specter has something new for sale and it's one of the Noble Family's heirloom, just don't ask about how he got them though."

- Added New Box

: Radiant Masquerade Puzzle Piece

Contains New Costume

"Within lies the Noble Family's Masquerade outfit woven with the most radiant silk"

: Spartacus Package

Contains Spartacus Symbol (Summon Marble), Skill Books, and Merc. Exp Books

: Spartacus Luxury Package

Contains Spartacus Package and Hanbok Package

: Spartacus Hanbok Package

Contains Spartacus Mercenary Imperial and Royal Guard Hanbok Skin

: Spartacus Skill Book Set [Lv. 1]

: Spartacus Skill Book Set [Lv. 2]

: Spartacus Skill Book Set [Lv. 3]

: Spartacus Skill Book Set [Lv. 4]

: Spartacus Skill Book Set [Lv. 4] (No Trade)

Contains Spartacus Skill Books

"Spartacus has arrived! He is seeking nothing but the freedom for his fellow warriors. Now the fate of Spartacus rests on your hands, the hands of a mighty Atlantian. Will you alter history and bring the gladiator of revolution to his victory, or will you let history repeat itself?"

Features

- Added option to now hide equipped mounts on character screen

"You can now hide your mount anywhere and anytime"

Note: Mount be default to Visuals off, please have the Mount option checked to have your mount visible again.



- Changed Golden Essence Moon from Tradable to Non-tradable

- Removed Freedom Park Quest and Shop NPCs

- Removed Freedom Park Teleport Gate

- Removed Merchant Acong (Twisted Bran Shop NPC)